Arriving in Copenhagen
Copenhagen is relatively small (1.2 mill) and compact compared to other capitals, and you will quickly know your way around. However, to help you when you arrive, we have provided some guidelines to get you from the airport or train station to where you need to go.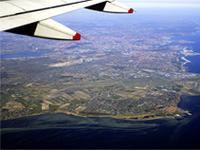 If you arrive by plane, you arrive in Copenhagen International Airport Kastrup, which is located 8 kilometres south of the city centre on the island of Amager. It is easy to get from the airport to the city centre by train or metro. The ride from the airport to the city centre takes about 15 minutes. Before getting on the train or metro, you need to purchase a ticket at the ticket stand (DSB) located in the airport terminal. The ticket (3-zone) costs around DKK 36. When you arrive in the city centre, you may decide to continue by public transportation or taxi depending on where you are going to stay.
Arriving by Metro or Train
Copenhagen has three large train stations and a number of smaller stations. Copenhagen Central Station (Hovedbanegården) is located in the western part of the city centre. Nørreport is located in the northern part of the city centre, while Østerport is located east of the city centre. From either of the stations it is easy to get to your destination by metro, S-train, bus or taxi. Tickets for the metro and S-trains are purchased on the platform or in the train terminal, while bus tickets can be purchased on the bus. You use the same ticket for both busses and trains. From the airport to city centre you will probably need a 3-zone ticket, costs DKK 36. From city centre to venue you will need 2-zone ticket, costs DKK 24. Read more about tickets here.
To plan your route, you may wish to visit www.rejseplanen.dk.
Taxi
A taxi fare from the airport to the city centre costs around DKK 250. Note that in taxis in Denmark, the meter will start at a certain fixed rate and run as you drive. It is not possible to negotiate the price of the fare. Be aware that tipping is only customary in Denmark when service has been particularly good. Taxi fares include service charges and therefore you are not expected to tip.