News
DM-forskningspris til professor Dan Zahavi
27 November 2013
Dan Zahavi, professor i filosofi og centerleder på Center for Subjektivitetsforskning, har netop modtaget Dansk Magisterforenings humanistiske forskningspris på 50.000 kroner.
Phenomenology and the Cognitive Sciences
05 November 2013
now number 9 on the Google Scholar Metrics of philosophy journals
Kristian Moltke Martiny has been nominated
15 October 2013
PhD-student at the Center for Subjectivity Research, has been nominated for this years University of Copenhagen Innovation prize
Self-understanding and self-alienation
03 October 2013
Arne Grøn receives a grant of DKK 5.305.042 from the VELUX FOUNDATION for a research project entitled "Self-understanding and Self-alienation: Existential Hermeneutics and Psychopathology".
Recent appointments
10 September 2013
Iben Damgaard and Cornelia Richter
New staff at Center for Subjectivity Research
02 September 2013
Welcome to Alessandro Salice, Felipe Leon and Yuko Ishihara.
New publications from Center for Subjectivity Research
28 August 2013
Gallagher, S., Zahavi, D.: La Mente Fenomenológica. Madrid: Alianza Editorial, 2013. (368 pp.).
Review: The Oxford Handbook of Contemporary Phenomenology
31 July 2013
The Oxford Handbook of Contemporary Phenomenology edited by Dan Zahavi reviewed by Andreas Elpidorou, University of Louisville.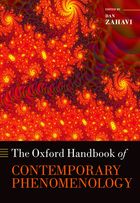 In putting together The Oxford Handbook of Contemporary Phenomenology (OHCP), Dan Zahavi has done a truly marvelous job. He has amassed essays of outstanding quality, replete with fascinating ideas, imaginative examples, and above all, carefully constructed arguments. There are critical and insightful phenomenological analyses of topics that run the gamut: from art, religion, and history; to the nature of perception, embodiment, and consciousness; to epistemological foundationalism and the problem of other minds; to methodological issues that phenomenology faces;...

Korean translation
30 April 2013
Korean translation of The Phenomenological Mind now available: Shaun Gallagher & Dan Zahavi, Hyunsanghakjeok Maeum - Shimricheolhakgwa Injikwahak Ipmoon. Seoul: Publisher B, 2013. (462 pp.).
Dan Zahavi on YouTube
23 April 2013
Watch Dan Zahavi discussing issues related to empathy in an interview with Edwin Rutsch