20 October 2014
Philosophical issues in psychiatry III: the nature and sources of historical change
Edited by Kenneth S. Kendler, Rachel Brown Banks Distinguished Professor of Psychiatry, Virginia Commonwealth University, USA, and Josef Parnas, Professor of Psychiatry, University of Copenhagen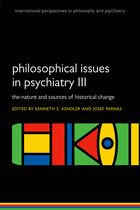 This book explores the forces that have shaped these changes and especially how substantial "internal" advances in our knowledge of the nature and causes of psychiatric illness have interacted with a plethora of external forces that have impacted on the psychiatric profession. It includes contributions from philosophers of science with an interest in psychiatry, psychiatrists and psychologists with expertise in the history of their field and historians of psychiatry. Each chapter is accompanied by an introduction and a commentary.
The result is a dynamic discussion about the nature of psychiatric disorders, and a book that is compelling reading for those in the field of mental health, history of science and medicine, and philosophy.
Readership: Psychiatrists, psychologists, mental health professionals and trainees, philosophers of mind, and historians.
The major focus of Professor Kendler's research is in the genetics of psychiatric and substance abuse disorders. Two major methodologies are used in this research. The first involves large population based twin samples. In these twins, we address the aggregate role of genetic and environmental factors. We seek to understand how these factors interact and correlate, and how, through development, the vulnerability to psychiatric illness and drug abuse is expressed. I have focused my work with twin samples from Virginia - in particular the Virginia Adult Twin Study of Psychiatric and Substance Use Disorders - but also worked with twin samples from Norway, Sweden and Holland. My work has focused on a wide range of disorders including major depression, anxiety disorders, eating disorders, externalizing behaviors, alcoholism, and drug abuse. I have worked a lot toward understanding the genetic and environmental sources of comorbidity of psychiatric and substance use disorders.
Josef Parnas is Professor of Psychiatry at the University of Copenhagen, psychiatric consultant at Psychiatric Center Hvidovre (Copenhagen) and co-founder and senior researcher at the Center of Subjectivity Research, an interdisciplinary research center, integrating philsophy of mind, phenomenology and psychopathology Universirt of Copenhagen, Faculty of the Humanities). Parnas has a long track recored in epidemiological, genetic and psychopathological research in schizophrenia. His research in recent years has mainly dealt with the abnormalities of the structure of experience, especially disorders of self-hood, in the schizophrenia spectrum disorders. Another focus is on the nature of the psychiatric object and psychodiagnostic assessment. He has for many years published on theoretical, phenomenological, and epistemological problems in psychopathology. 
Contributors:
Dr German Berrios, University of Cambridge, UK
Dr Emilie Bovet, University of Lausanne, Switzerland
Professor John Dupré, University of Exeter, UK
Professor Eric J. Engstrom, Humboldt University
Professor Ian Hacking, Collège de France, France and University of Toronto, Canada Professor Kenneth S. Kendler, Virginia Commonwealth University, USA
Professor Helen E. Longino, Stanford University, USA
Professor Robert Michels, Walsh McDermott University, USA
Professor Josef Parnas, DrMed University of Copenhagen, Denmark
Professor Yuji Sato, PhD Keio University School of Medicine, Japan
Professor Kenneth F. Schaffner, University of Pittsburgh, USA
Professor Miriam Solomon, Temple University, USA
Ms Kathryn Tabb, University of Pittsburgh, USA and University of Cambridge, UK
Professor Eric Turkheimer, University of Virginia, USA
Professor Peter Zachar, Auburn University Montgomery, USA.