23 March 2017
The Cambridge Companion to Philosophical Methodology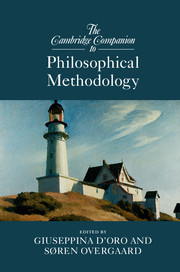 The Cambridge Companion to Philosophical Methodology offers clear and comprehensive coverage of the main methodological debates and approaches within philosophy.
The chapters in this volume approach the question of how to do philosophy from a wide range of perspectives, including conceptual analysis, critical theory, deconstruction, experimental philosophy, hermeneutics, Kantianism, methodological naturalism, phenomenology, and pragmatism.
They explore general conceptions of philosophy, centred on the question of what the point of philosophising might be; the method of conceptual analysis and its recent naturalistic critics and competitors; perspectives from continental philosophy; and also a variety of methodological views that belong neither to the mainstream of analytic philosophy, nor to continental philosophy as commonly conceived. Together they will enable readers to grasp an unusually wide range of approaches to methodological debates in philosophy.
Editors
Giuseppina D'Oro, Keele University
Giuseppina D'Oro is Reader in Philosophy at Keele University. Her recent publications include Collingwood and the Metaphysics of Experience (2002), Collingwood's An Essay on Philosophical Method (2005) and Reasons and Causes: Causalism and Anti-Causalism in the Philosophy of Action (2013).
Søren Overgaard, University of Copenhagen
Søren Overgaard is Associate Professor of Philosophy at the University of Copenhagen. His recent publications include Wittgenstein and Other Minds (2007) and An Introduction to Metaphilosophy (2013).
Contributors
Søren Overgaard, Giuseppina D'Oro, Alessandra Tanesini, Nicholas Rescher, Adrian Moore, Herman Cappelen, Hans-Johann Glock, Amie L. Thomasson, Frank Jackson, Hilary Kornblith, Joanathan M. Weinberg, Robert Hanna, Robert B. Talisse, Robert Piercey, David R. Cerbone, Jack Reynolds, Patrick Stokes, Kristin Gjesdal, Fabian Freyenhagen, Leonard R. Lawlor, Jean-Luc Petit
Read more at Cambridge University Press
Staff profile of Giuseppina D'Oro, Keele University
Staff profile of Søren Overgaard, Center for Subjectivity Research