Second-Person Engagement and Group Identification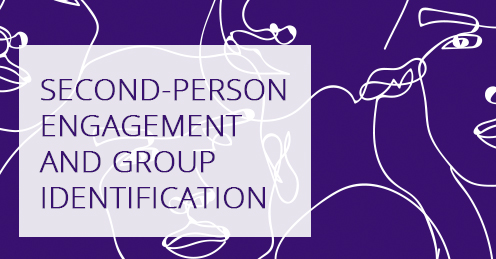 The conference will focus on theoretical and empirical perspectives on two research domains that have been extensively explored in recent years. On the one hand, an increasing number of philosophers and psychologist have investigated the role of second-person engagements in how we understand other people. Although there is a broad consensus that relating to a 'you' is different from relating to a 'she' or 'he', it has proven challenging to pinpoint what precisely this distinctiveness amounts to. On the other hand, some strands of research on group identification and collective intentionality have investigated the relationship between individual or I-intentionality, and collective or we-intentionality, understood as the capacity to identify and share mental states with other people and thereby adopt a group- or we-perspective.
Although the topics of second-person engagement and group identification point to pivotal structures of human sociality, their interrelation remain largely unexplored. Do second-person engagements play any role in how people come to identify with groups, and thereby adopt a we-perspective? How, if at all, are second-person engagements and group identification modulated by the spatio-temporal proximity of the participants in a social interaction, and by the number of them (in dyadic, triadic, and larger-scale interactions)? Does joint attention amount to a basic form of we-perspective? What is the developmental route of second-person engagements and group identification?
The aim of the conference is to address these and other questions, by way of discussing different conceptualizations and empirical investigations on second-person engagement and group identification, and by exploring the interrelations between them.
The conference is part of the project "You and We: Second-Person Engagement and Collective Intentionality", funded by the Independent Research Fund Denmark (DFF—7013-00032), and it is co-organized by Felipe León and Dan Zahavi.
Confirmed speakers:
Dominic Abrams (University of Kent, UK)
Malinda Carpenter (University of St. Andrews, UK)
Naomi Eilan (Warwick University, UK)
Miles Hewstone (University of Oxford, UK)
Arto Laitinen (University of Tampere, FI)
Henrike Moll (University of Southern California, US)
Vasudevi Reddy (University of Portsmouth, UK)
Philippe Rochat (Emory University, Atlanta, US)
Patricia Meindl (CFS – University of Copenhagen, DK)
Dan Zahavi (CFS – University of Copenhagen, DK)
Felipe León (CFS – University of Copenhagen, DK)
Programme will soon be available.
Registration
The conference is free and open to all but registration is needed.
Please use this registration form on no later than Friday 23 November 2018.
For queries about the conference, please contact administrator Merete Lynnerup